Relieve STRESS, STRUGGLE, JUDGEMENT, DISAPPOINTMENT and FRUSTRATION



fuel to reach New Heights




It feels so good when you're critical mind is quiet, when you 're in the flow. It feels amazing when you're clear.

W

hen you can see the root cause of your challenge and your way to resolve it. When you are at peace with where you are, feel confident in your decisions and you have momentum in achieving your goals. When you know where to focus and the best timing to bring things to fruition.




That's where I come in.

This is my magic. To help you to feel good about yourself, where you are, your time line and where you're going. I give you bearings and evidence. I help you to diffuse the stress, know your self, reconnect to your personal power and design and create your destiny. I'll guide you to know and integrate your most efficient and fulfilling route of self development, life improvement and work success.




When we work together

we're focused on setting up your success. Developing your foundation and momentum, Your vision and plotting your course. Your natural leadership will evolve out of self-knowing and you'll achieve fulfilling success with alignment to your talents, trust in yourself and your way. I'll help you gain momentum to experience more happiness, success after success on a regular basis that compounds each and every month. In your first session we'll get you feeling lighter, clearer, re-energized and optimistic and over time we'll have you feeling rich in all areas of your life, radiating an aura of natural charisma and confidence.



I want to work with you if you want to live feeling empowered and good, designing and living your destiny. Living true to yourself with core confidence and skills to ride the waves of life and entrepreneurial challenges and changes.

If you value good relationships you'll have the opportunity to meet learn, grow and mastermind with smart, caring, sharing, competent and committed people like yourself. Others who know the best of themselves impacts those they love and serves in incredible ways. Connect with others inspired to trust their inner calling, bring natural talent to fulfillment, making an impact with what they know and trust. Open, embracing and loving change, transition and growth.



Let's get you out of limitation, frustration, confusion and procrastination

and move you forward feeling empowered in the process of creating
all that you want.
Schedule a call and we'll start with a conversation
Conversations give us the opportunity to connect. An opportunity for me to answer your questions and explain what I have to offer that will support your needs. No sales pitch or pressure, simply genuine conversation.
Listen while you're cooking or driving, or pour yourself a drink, sit back and relax for 30 minutes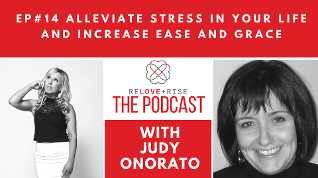 "Judy has insight and experience I trust. She is deeply committed to provide practical, personal and effective solutions. She listens and makes you feel comfortable to share information. She is non-judgmental, sees, and appreciates the gifts in people. You will be charged fairly for her services". Lori Beardmore. Norwood, ON.
"Judy Onorato is a one of a kind woman. She has the ability to listen and truly connect, particularly during one on one conversations. Her welcoming warmth and sense of humour opens the door to exploration of real issues. She is attuned to the energy of her surroundings and able to interpret it in a way that is applicable to each situation. Her interpretation of my numbers and energy has been very eye opening and helpful in navigating through recent transitions and events in my life. She's helped me clarify my direction, relax and go after it! P.S. I love her HARMONY mist:) T.S King City, ON
"Judy is a delight. Being with her was an interesting and wonderful experience.
I enjoyed the process immensely and was thrilled by the clarity, insight and inspiration she was able to give me in just one hour!"
K.H., Aurora, ON


"Whether you re new to self-development or a veteran, at various points on our journey we all need someone who can hold the space for us with compassion, clarity and wisdom. Not someone to solve our issues, but someone who can support us to feel safe, be more comfortable, honest and present to them. When a skilled practitioner can listen, accurately feedback what they have heard and then offer boarder perspective, new practical insights and useful tools, we can then re-calibrate back to our own center with renewed, refreshed energy and healthy alignment. Judy Onorato does this as she brings life experience, expertise, holistic training and most of all- the sincere desire to join with and support others in their life path to joy and fulfillment." Edyne Plancy, Toronto
"Because pure awareness lies at the basis of everything, the most powerful way to change your life is to begin with your awareness. When your consciousness changes, your situation will change. Every situation is both visible and invisible." Deepak Chopra