4 Energy Mists
Clear and Energize
Use this bright, citrus blend to clear away stressed and heavy emotional or psychic energy. Trade overwhelm for clarity and focus. Awaken, refresh, revive and energize you and your space. Essential oils: Sweet orange, Lemon, Pink & white grapefruit, Lime, Bergamot, Red Mandarin, Peppermint, Kashmir lavender and Rosemary. Essences: Dandelion, Ragweed relief, Out of the Shadow & Iris. Spring Water and trace French brandy
Radiant Beauty
Reconnect to your nature and feel good to be you. Feel beautiful inside out. Enlighten and smile: reclaiming grace. Effortlessly radiate love, confidence and joy. Essential oils: Sweet Orange, Pink Grapefruit, Rosemary, Kashmir lavender, Geranium Rose, Sandalwood. Essences: Peony, Iris, Alleluja, Ragweed, Pink Rose. Spring Water & trace French brandy.
Harmony
Bring reassuring and loving energy into your aura and space. Relieve feelings of anxiety, drop stress from your shoulder and relax. Reclaim your center, a calm mind and peace. Essential oils: Sweet Orange, Sandalwood, Kashmir lavender. Essences: Oneness, Iris. Spring water, trace French brandy
Bliss
When you want to get into the meditation zone, calm the mind and open to new possibility. Bliss in a bottle; sit still in Peace, move gently in Yoga, be at one with the Divine and nature. Essential oils: Frankincense, Geranium rose, Rose. Essences: Divine Integration, Dandelion, Peony. Spring water, trace French brandy.
Expanding your knowledge of the properties and definitions of the essences and essential oils listed, will give you greater understanding and appreciation for the complexity,,,possibilities and potential of the mists.
A powerhouse of energy, each natural mist has unique qualities and a light, delicate fragrance.
Simply change mood, feeling and mindset spraying over your head, around your home or work space.
These delightful mists combine high quality essential oils (many organic or wild-crafted) with flower and gem essences created in my own garden. The essential oils provide natural, pure, refined fragrance along with the benefits of aromatherapy. They contain naturally derived cleansing, clearing, healing and energizing properties.
Mist your body, aura or physical space.
Choose for specific attributes or for the pleasure of the fragrance and the feeling you experience.
Naturally cleanse and charge your aura with beautiful vital energy
An aura spray, generously mist (3-9 times) above your head and allow the mist to drift down over your complete body. Notice.
Shift moods - change feelings
"I've been having one of those 'intense' days, and this spray (Radiant Beauty) is helping to bring me back to center." Melissa McQuillan Toronto, ON
Use to shift your mood and change your energy to feel more empowered, productive, lighter, relaxed and aligned to activity or focus.
A gentle way to transform emotional charges, feelings of imbalance and stress in you...
"When I got home my wife liked the fresh smell and noticed me to be more calm. Until late into the evening, I felt like nothing could go wrong for me and any disturbance that might happen would be minor and easily handled." Tony Lombardi Caledon, ON.

and your space...
HOME OFFICE CLASSROOM THERAPY ROOM CLINIC YOGA STUDIO ART STUDIO SACRED SPACE
Prepare your space with energy to support purpose




Clear, energize or re-balancing after healing or event



HARMONY- a favourite of massage therapists
Their clients walk in the room and say "ahh - it feels so good in here"
Hold or express intention while you spray - take the energy of the mist to another level
I brought Harmony energy mist to the hospital. The natural anti-bacterial properties were useful as hand sanitizer and to mist the air
The energetic properties brought a sense of reassurance, calm and loving energy. Relieving feelings of anxiety and stress to patient, visitors and nurse.
Aware of some complimentary therapies such as reiki and aromatherapy, one of the nurses commented on how it helped my mother in law and how she saw and felt the calming effect it had.
Something so simple had a profound effect at a time like this
Diluting it with fresh water it could be used at the point when flowers in the room had too much scent.
At times when it was inappropriate to spray around, we used it on the comb for her hair and sprayed on the hands that held hers.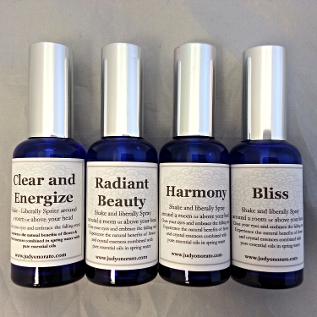 Until our shopping cart is set up on-line purchases and shipping is a little cumbersome - yet possible.
The buy now button is useful for local purchase and with limited shipping in local GTA area.
To order your product please call 647 222 2889 or email me at judyonorato@sympatico.ca to confirm shipping before making any payment to save additional fees. E-transfer is an easy payment option.
Essential Oils and Flower Essences to Cultivate Balance in Fall 2013 Issue of LIFE BALANCE MAGAZINE

Click on article image and select pages 8 -9

QUALITY MATTERS
Our cobalt blue bottles provide protection from deterioration caused by light exposure; Store away from direct sunlight and extreme temperatures. We recommend you use the mist within 6 months of purchase to enjoy top quality scent.
SHAKE WELL BEFORE MISTING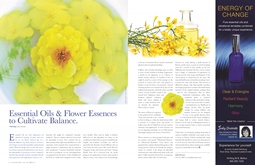 Pop in - Experience and purchase the Mists at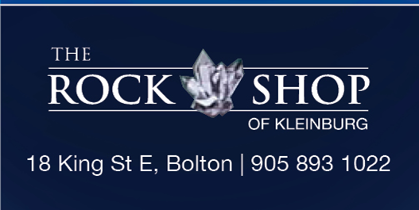 "I am using my mist and essences every day, and mist before a business meeting. Recently on a business trip I witnessed first hand my overall sense of self, security and patience was so much better than on previous trips. I love my mists and essences. I feel more and more confident and grounded after using them. I also found that people and day to day life is easier." Edyne Plancy, TO